Fancy Text Generator
Cool fancy text generator is becoming very common now, although it was not so in the early days. The fancy texts have been lurking around the web even before Facebook, Twitter and Instagram appeared on the internet. But recently many new users have emerged and started writing their texts in fancy form using these sites.
It is almost impossible to create these texts on normal MS Word or Wordpad, so to use these texts you have to either be so geeked to create your own Unicode text or use our site fancy text generator online to create such eye-catching texts. This site is mostly used by people to create Facebook design name, Instagram bio or Twitter name or aesthetic symbols for Tumblr. And all you have to do is fancy text generator copy and paste it where ever you like. Mostly nowadays people want a more attractive and designed way to build their profile and make them more attractive. You can use our site to create texts that we provide like tattoo fonts, calligraphy fonts, cursive fonts, handwriting fonts, ♡ symbols, email symbol text, fancy text guru.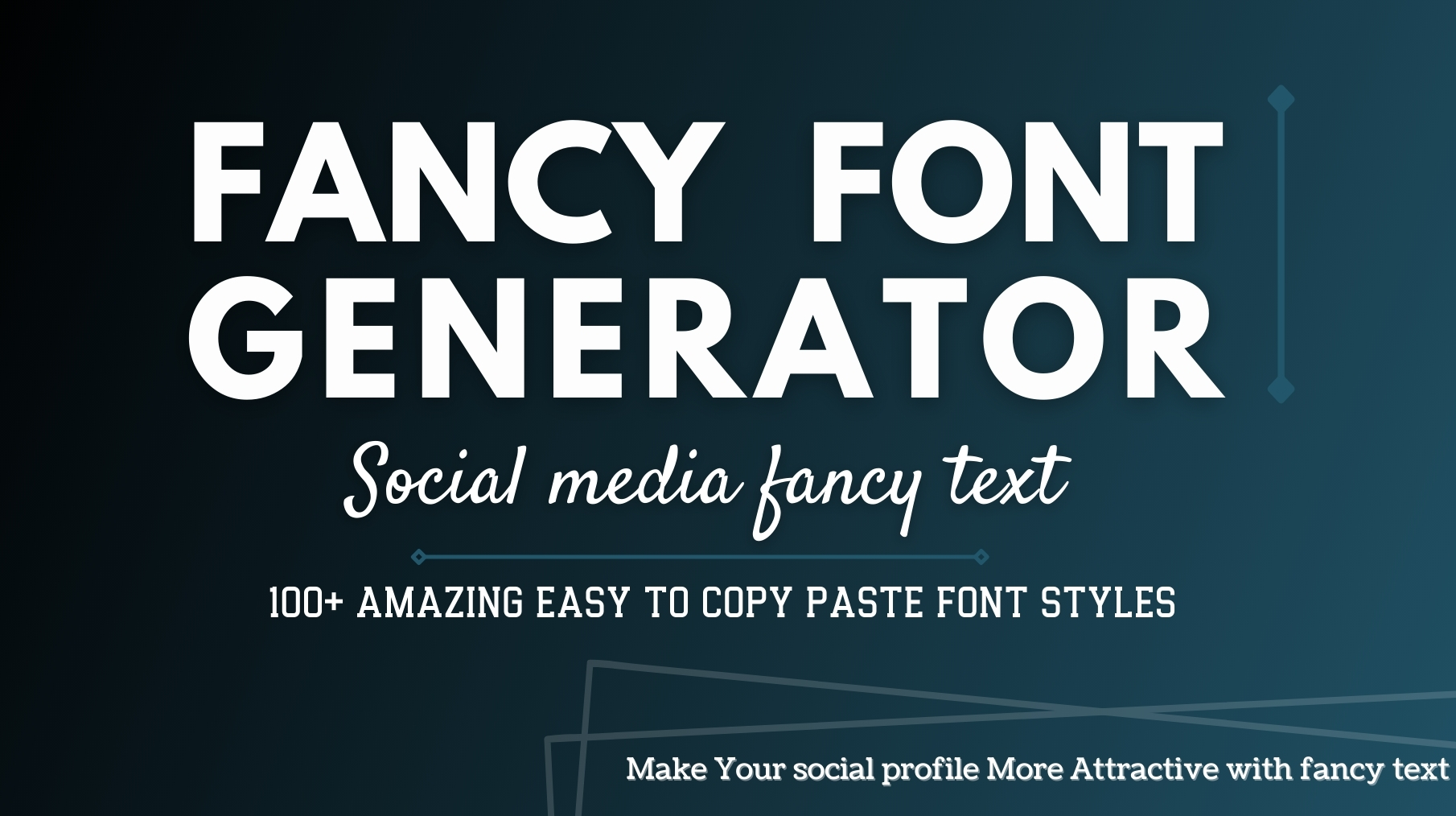 What is Fancy Text?
Fancy text, also known as fancy font, is actually a character formed by symbols using Unicode rendering. Unicode, on the other hand, is an industry's conventional way of encoding (rendering or showing) and displaying characters on a screen. Rendering the standard Latin alphabet is reasonably easy for a computer, but while rendering complicated symbols like Chinese and Georgian characters are tougher and need more time and effort.
A computer requires a way to execute all of the possible characters for several languages as well as emojis which have grown pretty popular. According to Wikipedia, there are now almost "137,994 characters covering 150 modern and historic scripts, as well as various symbol sets and emoji" in the Unicode character kit. Apart from many useful characters, like Chinese characters, Unicode also contains some cool characters as well, such as bubble text. Fancy text generator pro will give you access to all those hard-to-render texts that you desire, all at a very reasonable price range.
How and where to use these Fancy text?
These fancy texts are used almost everywhere on the web. Using a cool fancy text generator you can create fancy texts and Unicode symbols that can be used for creating fancy biographies and descriptions for Facebook, Twitter, Instagram, Tumblr and many other platforms. The best section about Unicode characters, including the fancy text, is that you can copy and paste them to virtually anywhere. Apart from the fonts that you use in Microsoft Word which doesn't copy formatting over to email or social media, the fancy text allows you post on Instagram, Twitter, Facebook, and more with a fancy text generator for Facebook! Just scroll through and find your favourite text, then click "Copy," and then paste anywhere you want to.
We've created the small fancy text generator tool above to merge some of our preferred fancy text characters so that you can instantly find them and copy and paste them to social media (Twitter, Instagram, YouTube, Facebook, and more), email, etc. Fancy text generator for Facebook allows you to generate texts that can easily be posted on Facebook without any moderation. You can use these to create posts that will be eye-catching and engage a large number of viewers. Today discord is widely used by gamers and many others to create a kind of social gathering. There you can connect with many others via channels. You can share pieces of information, file and even connect yourself with others using voice chat. Discord fancy text generator can be useful in creating fancy channel names or even sending messages to the channel. Somewhere you would like to have your sentence written in the cursive letter, well, no problem at all as we got you covered for that. Fancy text generator cursive can be a useful and handy tool for writing fancy texts in a cursive way.
How To Use Fancy Text Generator Tool?
Cool Fancy Text Generator tool is totally effortless and time-saving to use. The only thing you have to do is just type your text in the input area which is "Your Text Here", it will change into fancy fonts. It is programmed to Generate 100+ fancy, fashionable and cool text fonts, just below your typing area. You can also make those text fonts random, just click on 'Generate Randomly' and it will re-shuffle or add new shapes and symbols to the text. Once the text is generated using the tool, the only thing you have to do is just copy the text by clicking on it. It will be copied instantly to your clipboard and after that, you can paste it anywhere.
Features Of Cool Fancy Text Generator
With cool fancy text generator tool, you can decorate your text by choosing from different font styles, copy them to your clipboard & share them on social media. Apart from fancy text, you can also use the fancy name facility for writing your names on gallery or camera pictures and further decorating them with smart designs & patterns. Features that you can relish in this cool fancy text generator tool:
– Collection of 100+ stylish font styles for fancy text writing
– Easily create your fancy text, tap to copy to clipboard & share or paste anywhere
– Devised for stylish chats on WhatsApp, Facebook, Snap chat, Twitter etc.
– Cool fancy name art features for stylish name scribbling on pictures
– Amazing collection of ASCII art
– Simple & easy to use
– Free to download
Things that may even surprise you is that there is no limit in the types of Fonts you will generate from our Font text generator tool website. You will get a minimum of 100 Fancy Fonts. Also, It has a randomised option that you can use so every time you type any text, You will get a cool random Font text style. So enjoy creating fancy names.